The takeover and contractual securing of some or all your tried and tested IT specialists who can continue to work on your projects without interruption.
This can be implemented in several ways, most commonly:
by taking over your existing contracted individuals and/or employees,
by taking over individual contractors of other suppliers working under contract on your projects and/or on the projects of your customers.
The basic advantages of "Outstaffing" include, particularly:
the possibility of maintaining or even increasing the working capacity of your teams even if you have limited the recruitment of your own employees for any reason ("Hiring freeze"),
rapid "Headcount" reduction, including the personnel and related fixed costs, which essentially occurs immediately after taking over your IT specialists,
uninterrupted continuation of the work of IT specialists on your ongoing projects,
the possibility of changing the working mode of IT specialists (On-Site/Off Site),
maintenance of your full control over the IT specialists' activities,
maximum flexibility in managing the size of the team and the number of individual specialists; on daily basis; you have exactly as much capacity as you need at any given moment in time,
removal of the need to fire one's own employees when their capacity exceeds current requirements.
Contact for IT specialists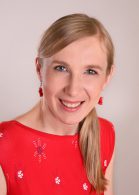 Iveta Andrlová
iveta_andrlova@quicksource.cz
+420 602 145 688
Selection of available IT specialists